Minjoo Ham is a type designer, who left South Korea for the Netherlands in 2014. She finished the study in the Hague, and recently living and working in Berlin.
www.minjooham.com︎
Why did you leave Korea? Were there any incidents that made you want to leave Korea?
Min Joo Ham: In 2014, I had an opportunity to study in the Hague, the Netherlands, and this gave me the chance to leave Korea that was not not for travelling purposes.

How long and how did you prepare for studying/working-abroad?
MH: Because I constantly worked on my portfolios and studied English, it did not take too long – I think I spent about a year solely on preparation. After graduation, I did not have plan to work overseas, so I didn't do anything extra to prepare for an employment.

What was your reason for choosing the city and the country you live in now?
MH: After I finished my studies in the Hague, I wanted to do an internship in Europe. Around the time of my graduation, I received an internship offer opportunity from Jan Middendorp, a designer based in Berlin. Before the offer, I had never considered Berlin as my potential location, but later on, I realised that Berlin has the most number of type designers in Europe and there are also various type-design conferences, and these were some of the biggest reasons why I decided to live in Berlin.

How much is the cost of living in your city? How much do you pay for rent? What is the living environment like?
MH: The cost of living in Berlin is about the same as that in Seoul or lower. Eating out may be more expensive but groceries cost much less. If you are willing to try, you can save a bit more here. In Berlin, apartment shares are quite common, which also helps when it comes to living frugally.

Are there any differences in working environment for female designers? When yes, what are they?
MH: Because I work as a freelancer, I cannot really tell how the working environment is like here. However, compared to Korea, I feel that I am treated more fairly here. This also means that I have no advantage for being a female.

Do you experience any sexual discrimination and/or racial discrimination? How do you deal with it?
MH: Luckily, I haven't encountered any yet.

Compare to when working in Korea, do you now have more free time after work? How different are you weekends and holidays here in Berlin? How do you spend your free time?
MH: It is a bit embarrassing, but I loved to go shopping when I was in Korea. Every time I went out just to hang out with friends, I ended up in a shopping mall or at a department store, even though there was nothing I needed to buy. In Berlin, all shops close on the weekend, so I spend my free time riding a bike to the park or to nearby lakes.

What are the hardest parts about living overseas? How do you overcome?
MH: I think language barrier is the biggest hardships of living overseas; German is definitely not an easy language to learn.

How do you study English? Do you have any tips?
MH: I don't do much to study English: I would watch Netflix and read new articles that interest me. For German, I used to go to a language school but because my purpose of learning the language was not for a language test, I now take a private lesson twice a week. I don't face any difficulties in everyday life, but I still find it difficult to communicate freely with my colleagues.

Do you plan to go back to Korea? If yes, what are the reasons?
MH: I don't plan to go back yet.

If you don't plan to go back, what are the reasons? How do you prepare for it, if you are planning to stay here longer?
MH: The market for type-design is quite small in Korea and the treatment is pretty bad as well. I don't feel ready to work and live in Korea yet.

Do you have any female role models? Who is she?
MH: I don't have any.

What are your plans for now?
MH: I just want to make a living by doing the work I love.

Lastly, do you want to say anything to female job seekers, who are pursuing their career overseas?
MH: Know what you want and try to gain as many experiences as you can.

The interview was conducted on July 2017 via E-Mail.
Dunkel Sans. Typeface, 2018, Minjoo Ham

"I HAD AN OPPORTUNITY TO STUDY
IN THE HAGUE AND THIS GAVE ME THE CHANCE TO LEAVE KOREA"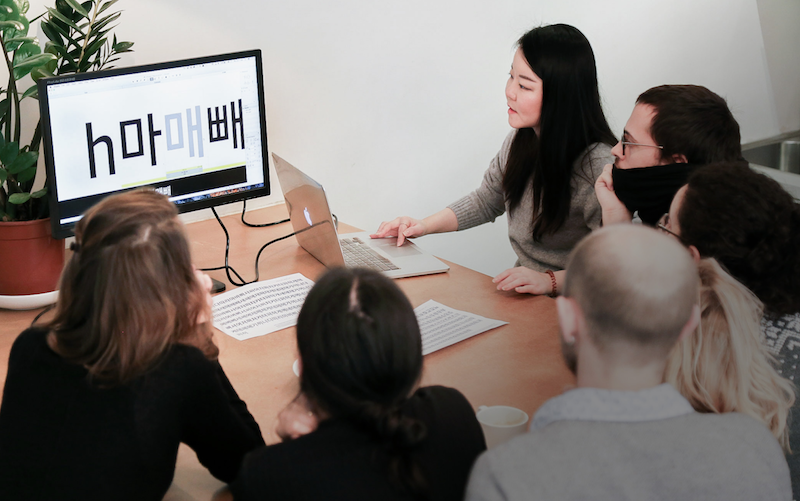 Hangul Workshop, Minjoo Ham



"THE MARKET FOR TYPEDESIGN
IS QUITE SMALL
IN KOREA
AND THE TREATMENT
IS PRETTY BAD AS WELL"
Koppla, 2015, Minjoo Ham